---
WARBIRD RESOURCE GROUP
>
RUSSIAN AVIATION
>
FIGHTERS
>
PREVIOUS PAGE
---
Polikarpov I-15
---
---
Type: Single seat fighter
Origin: Polikarpov
Model: I-15
Crew: One
First Flight: October 1933
Service Delivery: N/A
Final Delivery: N/A
Number Produced:
– I-15: 647
– I-15bis: 2,408


---

Powerplant: M-22
Model: M-22 (licensed Bristol Jupiter)
Type: 9-cylinder naturally aspirated air-cooled
Number: One Horsepower: 473


---

Dimensions:
Length: 6.10 m (20 ft 0 in)
Wingspan: 9.75 m (32 ft 0 in)
Height: 2.20 m (7 ft 3 in)
Wing area: 21.9 m² (236 ft²)

Weights:
Empty weight: 1,012 kg (2,226 lb)
Loaded weight: 1,415 kg (3,113 lb)
Max takeoff weight: N/A


Performance:
Maximum speed: 350 km/h (220 mph)
Range: 500 km (310 miles)
Service ceiling: 7,250 m (23,800 ft)
Rate of climb: 7.6 m/s (1,490 ft/min)
Wing loading: 65 kg/m² (13 lb/ft²)
Power/mass: 0.25 kW/kg (0.15 hp/lb)


---

Armament:
Four 7.62 mm PV-1 machine guns
– or –
Two 12.7 mm BS machine guns

Drop Ordnance:
Up to 100 kg (220 lb) of bombs
– or –
Six RS-82 rockets

---
Design and Development
-
Source: Wikipedia
The design for the 14th fighter for the VVS, the I-14, started as an advanced (for the era) monoplane under the direction of Andrei Tupolev. He grew concerned that the design would not mature, and orded up two backup biplane designs as the I-14A and B just to be safe. Polikarpov had just been released from prison in August 1932, and was handed the I-14A project. When both the I-14 and I-14A were ordered into production, Polikarpov's design became the famous I-15.
The first flight was made in October 1933 with V.P. Chkalov at the controls. I-15, also known by its development name TsKB-3, a small biplane fighter with a gulled upper wing. It was a development of the I-5 fighter. It was equipped with one 700 PS (515 kW) M-25 engine. Total 674 were built.
Operational history - Source: Wikipedia
The I-15 was used in combat extensively by the republicans in the Spanish Civil War and proved to be one of the best fighter biplanes of its time. The I-15bis saw a high amount of action in Manchuria In the various border clashes between the Russians and the Japanese. In 1937 I-15's also saw action in the hands of the Chinese against invading Japanese where the tough biplane began to meet its match in some of the newer, faster Japanese monoplanes. More than 1000 I-15bis fighters were still in use during the German invasion where the biplane strived in the ground attack role. By late 1942 all I-15 and I-15 bis were relegated to second line duties.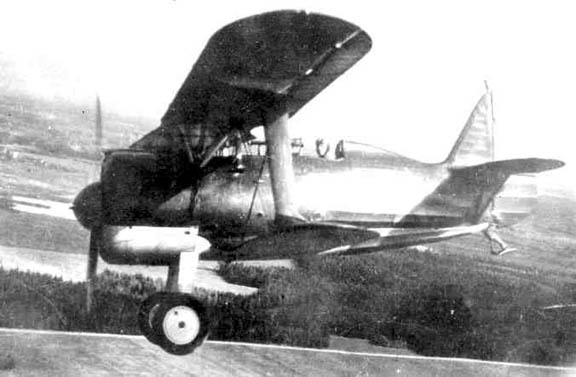 I-15bis (I-152).
Variants
-
Source: Wikipedia
TsKB-3bis - Prototype.
TsKB-3ter - Prototype fitted with the more powerful M-25V radial piston engine.
I-15 - First production series.
I-15bis (I-152) - Single-seat fighter biplane, armed with four 7.62-mm (0.30-inch)PV-1 or ShKAS machine-guns, plus up to 150 kg (330 lb) of bombs. The I-15bis was powered by the more powerful 570 kW (775 PS) M-25V radial piston engine. It had a straight upper wing. 2,408 machines were built.
I-152GK - One aircraft fitted with a pressure cabin.
I-152TK - One aircraft fitted with two turbochargers.
I-15ter (I-153) - Development of the I-15 with retractable landing gear.

---
WARBIRD RESOURCE GROUP
>
RUSSIAN AVIATION
>
FIGHTERS
>
PREVIOUS PAGE
---