---
WARBIRD RESOURCE GROUP
>
RUSSIAN AVIATION
>
FIGHTERS
>
PREVIOUS PAGE
---
Lavochkin LaGG-1
---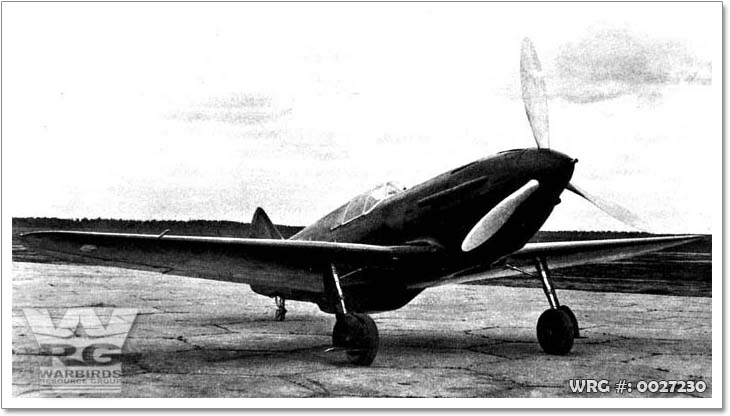 ---
The Lavochkin-Gorbunov-Gudkov LaGG-1 was a Soviet fighter aircraft of World War II. Although not very successful, it formed the basis for a series of aircraft that would eventually become some of the most formidable Soviet fighters of the war.
Conceived in 1938, the LaGG-1 was a light-weight aircraft designed around the Klimov M-105 engine and using laminated wood in it's construction to save on strategic materials. The first prototype flew on March 30, 1940, and once some initial difficulties had been worked out of the design, proved to be promising, if somewhat short of what its designers had hoped for. By this stage, however, the need to modernise the Soviet Air Force had been made plain by recent losses in the Winter War with Finland, and the aircraft, initially designated I-22 was ordered into production.
Some 100 aircraft were sent to evaluation squadrons, where their shortcomings quickly became obvious. The aircraft was clearly underpowered, and lacked agility and range. Furthermore, while the seven prototypes had been carefully handmade and finished to a very high standard, the mass-produced examples were comparatively crude, and this only added to the existing weaknesses.
As reports of these problems came back to the design team, a series of modifications were undertaken that would result in the LaGG-3.
Type: Single seat fighter
Origin: Lavochkin-Gorbunov-Goudkov
Model: LaGG-1
Crew: One
First Flight: March 30, 1940
Service Delivery: N/A
Final Delivery: N/A
Number Produced: 100


---

Powerplant:
Model: Klimov M-105P
Type: Liquid-cooled V-12
Number: One
Horsepower: 1,100


---

Dimensions:
Length: 8.81 m (28 ft 11 in)
Wingspan: 9.80 m (32 ft 2 in)
Height: 4.40 m (14 ft 5 in)
Wing area: 17.5 m² (188 ft²)

Weights:
Empty weight: 2,478 kg (5,463 lb)
Loaded weight: 2,968 kg (6,543 lb)
Max takeoff weight: 3,380 kg (7,452 lb)


---

Performance:
Maximum speed: 605 km/h (377 mph)
Range: 556 km (346 mi)
Service ceiling: 9,600 m (31,500 ft)
Rate of climb: 14.3 m/s (2,804 ft/min)
Wing loading: 170 kg/m² (35 lb/ft²)
Power/mass: 270 W/kg (0.17 hp/lb)


---

Armament:
Two 7.62 mm ShKAS machine guns above engine
One 20 mm ShVAK cannon firing through the propeller hub.

---
Sources:
The Complete Encyclodepia of World Aircraft
, 1997, Barnes & Nobles Books, ISBN: 0 7607 0592 5
Wikipedia
---
WARBIRD RESOURCE GROUP
>
RUSSIAN AVIATION
>
FIGHTERS
>
PREVIOUS PAGE
---