---
WARBIRD RESOURCE GROUP
>
RUSSIAN AVIATION
>
FIGHTERS
>
PREVIOUS PAGE
---
Lavochkin LaGG-3
---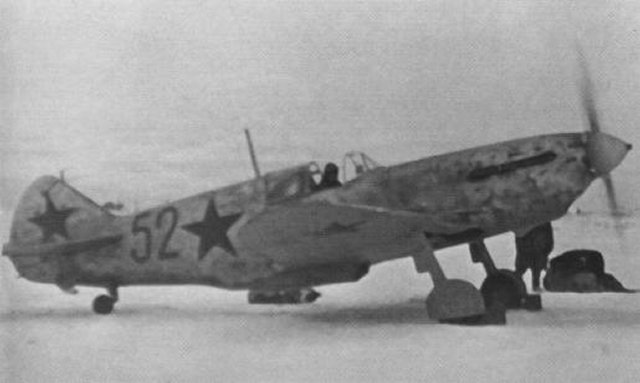 ---
Type:Single-Seat Fighter
Origin:Lavochkin
First Flight: March 30, 1939
Service Delivery: 1941
Final Delivery: June 1942
Number Produced: N/A


---

Engine:
Model: Klimov M-105PF
Type: Liquid-cooled V-12
Number: One Horsepower: 1,240


---

Dimensions:
Wing span: 32 ft. 2 in. (9.8m)
Length: 29 ft. 1¼ in. (8.9m)
Height: 8 ft. 10 in. (3.22m)
Wing Surface Area: 188.37 sq. ft. (17.50m²)

Weights:
Empty: 5,764 lbs. (2620 kg)
Max. Take-Off: 7,275 lbs. (3300 kg)

Performance:
Maximum Speed: 348 mph (560 km/h)
Initial climb: 2,953 ft./min. (900 m/min)
Service Ceiling: 29,527 ft. (9000m)
Range: 404 Miles (650 km)

Armament:
Typical:
One 20mm ShVAK cannon firing through propellor hub
–Ammunition: 120 rounds
Two 12.7mm BS machine gun above engine
–Ammunition: 220 round per gun

Some variation occured depending on mission. Some LaGG-3 assigned to IL-2 escort had three 12.7mm BG machine guns and two 7.62mm machine guns (unknown configuration)

Bomb Load:
Underwing racks for six RS-82 rockets or various light bombs.

---
While modern in appearance, the LaGG-3 is actually a throwback. Constructed primaily of wood, the LaGG-3 proved to be surprisingly resistant to damage. While it did not perform as well as some other Russian designs, it did provide a sort of stop-gap until sufficient numbers of better performing fighters could be produced. Later developement of the type included adding a radial engine which increased speed and performance. This prototype eventually led to the LaGG-5.
---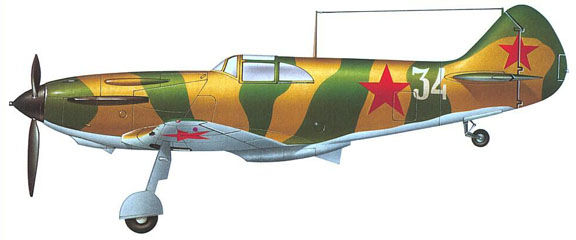 ---
WARBIRD RESOURCE GROUP
>
RUSSIAN AVIATION
>
FIGHTERS
>
PREVIOUS PAGE
---