---
WARBIRD RESOURCE GROUP
>
RUSSIAN AVIATION
>
FIGHTERS
>
PREVIOUS PAGE
---
Mikoyan MiG-1
---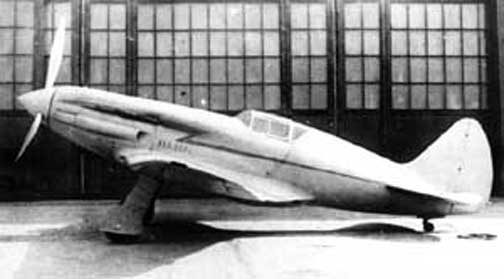 ---
Type: Single seat fighter
Origin: Mikoyan-Gurevich
Model: MiG-1
Crew: One
First Flight: April 1940
Service Delivery: N/A
Final Delivery: N/A
Number Produced: Approx. 100


---

Powerplant:
Model: Mikulin AM-35A
Type: liquid-cooled V-12
Number: One Horsepower: 1,350


---

Dimensions:
Length: 8.16 m (26 ft 9 in)
Wingspan: 10.20 m (33 ft 5 in)
Height: 2.62 m (8 ft 7 in)
Wing area: 17.5 m² (188 ft²)
Airfoil: Clark YH

Weights:
Empty weight: 2,602 kg (5,736 lb)
Loaded weight: 3,099 kg (6,832 lb)
Max takeoff weight: 3,319 kg (7,317 lb)


---

Performance:
Maximum speed: 657 km/h (410 mph)
Range: 580 km (362 mi)
Service ceiling: 12,000 m (39,400 ft)
Rate of climb: 16.8 m/s (3,306 ft/min)
Wing loading: 177 kg/m² (36 lb/ft²)
Power/mass: 0.32 kW/kg (0.20 hp/lb)


---

Armament:
One 12.7 mm BS machine gun
Two 7.62 mm ShKAS machine guns

---
The MiG-1 was designed in response to a requirement for a fighter with an inline engine issued by the Soviet Air Force in January 1939. Initially the aircraft, designated I-200, was designed in the Polikarpov construction bureau. Work started in June 1939, under the direction of Nikolai Polikarpov and his assistant M. Tetivikin. Polikarpov himself preferred radial engines and promoted his I-180 design at that time, but when the powerful Mikulin AM-37 inline engine became available, he decided to use it in a fighter. The approach that he selected was to build the smallest possible aircraft around the intended powerplant, thereby minimising weight and drag — the philosophy of the light fighter. As specified, the aircraft was to be capable of reaching 670 km/h (417 mph). In August 1939, Polikarpov made N. Andrianov a leading designer. At that time, however, Polikarpov fell out of favour with Stalin and as a result, when Polikarpov went in November 1939 to tour Germany's aviation works, t he Soviet authorities decided to scatter his construction team and create a new Experimental Construction Section (OKO), headed by Artem Mikoyan and Mikhail Gurevich, which remained formally subordinated to Polikarpov bureau until June 1940. Further work upon the I-200 design was assigned to Mikoyan and Gurevich, who later became recognized — not with full justice — as its designers.
The result was a highly conventional aircraft that flew on schedule on April 5 1940, although its intended powerplant was not ready in time. The flight was conducted by Arkadij Ekatov on the Khodynka (Frunze) Airfield in Moscow, and was able to attain a speed of 648.5km/h at 6900m.[1] Instead, the new fighter flew with the less powerful AM-35, and even with this soon broke the Soviet air speed record by 40 km/h (25 mph). It could not, however, attain the speed originally specified by the air force with this engine. The I-200 was put into production almost immediately, on May 31 1940. In contrast to the other competing designs, the I-26 (Yak-1) and I-301 (LaGG-3), the I-200 successfully completed the state trials in August on its first attempt. By the end of the year, the type was already being delivered to test squadrons, where it was soon discovered that the high wing loading of the small aircraft produced some very nasty handling problems, including tendencies towards both stalling and spinning, and a lack of directional stability.
As reports of the handling problems came back to Mikoyan and Gurevich, they worked to remedy them, incorporating many design changes. They also increased the aircraft's range by increasing fuel tank capacity. The improved plane was first flown on October 29 1940. According to a new naming system, from December 9 1940 the first 100 I-200 were designated MiG-1 (after the initials of Mikoyan and Gurevich), while further improved aircraft were designated MiG-3.

---
Source:
Source: Wikipedia
---
WARBIRD RESOURCE GROUP
>
RUSSIAN AVIATION
>
FIGHTERS
>
PREVIOUS PAGE
---