---
WARBIRD RESOURCE GROUP
>
RUSSIAN AVIATION
>
FIGHTERS
>
PREVIOUS PAGE
---
Mikoyan MiG-3
---
---
Type: Single-Seat Fighter
Origin: Mikoyan
First Flight: May 1941
Service Delivery: N/A
Final Delivery: Late 1941
Number Produced: Around 3,322


---

Engine:
Type: Mikulin AM-35A V-12 Liquid Cooled
Number: One
Horsepower: 1,350 hp


---

Dimensions:
Wing span: 33 ft. 9.5 in. (10.3m)
Length: 26 ft. 9 in. (8.15m)
Height: 8 ft. 7 in. (2.61m)
Wing Surface Area: 187.73 sq. ft. (17.44 m²)

Weights:
Empty: 5,721 lbs. (2595 kg)
Max. Take-Off: 7,385 lbs. (3350 kg)
Performance:
Maximum Speed: 398 mph (640 km/h)
Initial climb: 3,937 ft./min. (1200 m/min)
Service Ceiling: 39,370 ft. (12,000m)
Range: 776 Miles (1250 km)

Armament:
One 12.7mm BS machine gun in nose
Two 7.62mm ShKAS machine gun in nose
Later supplememnted with field kits, allowing two additional unsynchronised 12.7mm BS machine guns to be mounted in underwing pod

Bomb Load:
Underwing rails for six RS-82 rockets
Or
Two 220 lb. (100 kg) bombs or two chemical containers


---
Operational History
-
Source: Wikipedia
The first production MiG-3 rolled off the assembly line on December 20 of 1940. By March 1941, 10 of these aircraft were coming off the production line every day. It was not long before the type would see combat, claiming a pair of German Junkers Ju 86 reconnaissance aircraft even before the start of hostilities between Germany and the Soviet Union.
By the time of Operation Barbarossa, over 1,200 MiG-3's had been delivered.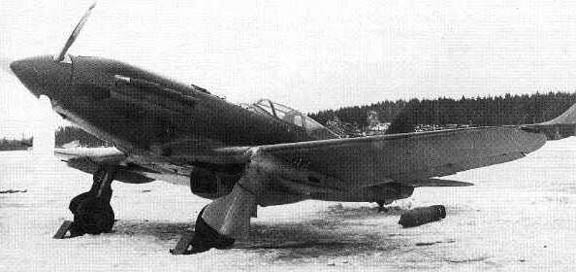 During initial testing of production aircraft was found to be inferior to the MiG-1 due to its weight increase, and fuel consumption was well over what Mikoyan and Gurevich were promised by the manufacturer (zavod No.24), but the fuel consumption was actually found to be an issue with the testing of the aircraft and the failure to take into account altitude correction. Mikoyan and Gurevich went as far as arranging for two more flights between Leningrad and Moscow to prove the MiG-3 could fly 1000 km.
However that was not the end of the issues that the MiG-3 encountered during its deployment. Several MiG-3s produced were found to have unacceptable performance at altitude due to oil and fuel pressure. It was also found that pilots attempted to fly the MiG-3 as if it were an earlier aircraft (especially the forgiving Polikarpov I-15, I-153 and I-16's) and which led to several other problems. Soon new oil and fuel pumps were introduced as well as attempts at better pilot training to familiarize them with the MiG-3.
Over the next two years the MiG-3 several new changes made it into production, including up-gunning to UBS machine guns and ShVAK cannons.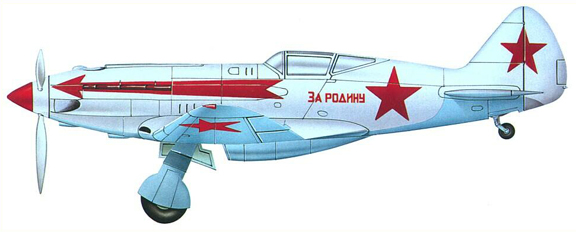 Due to the conditions of battle with the German forces, the MiG-3 was forced into a low altitude and even a ground-attack role, but it was quickly found to be inferior, and withdrawn from this role. The death knell for the MiG-3 was the discontinuation of its AM-35 engine so that Mikulin could concentrate on AM-38 production for the Ilyushin Il-2 Shturmovik.
Even with the MiG-3's limitations, Alexander 'Sasha' Pokryshkin, the second leading Soviet ace of the war with 59 official victories, recorded most of those victories while flying a MiG-3.
---
WARBIRD RESOURCE GROUP
>
RUSSIAN AVIATION
>
FIGHTERS
>
PREVIOUS PAGE
---