---
WARBIRD RESOURCE GROUP
>
RUSSIAN AVIATION
>
BOMBERS/ATTACK
>
PREVIOUS PAGE
---
Tupolev Tu-2
---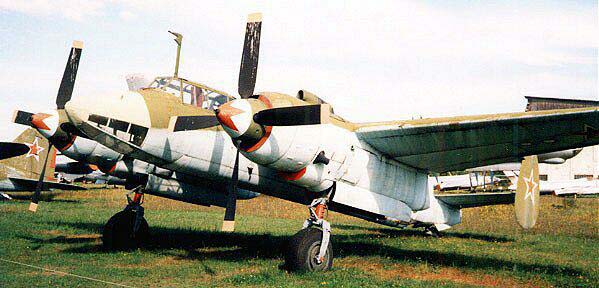 ---
Type: High speed daylight bomber
Origin: Tupolev
Model: Tu-2
Crew: Four
First Flight: N/A
Service Delivery: N/A
Final Delivery: N/A
Number Produced: N/A


---

Powerplant:
Model: Shvetsov ASh-82
Type: 14-cylinder air-cooled two-row radial engine
Number: Two Horsepower: 1,850 hp ea.


---

Dimensions:
Length: 13.80 m (45 ft 3 in)
Wingspan: 18.86 m (61 ft 10 in)
Height: 4.13 m (13 ft 7 in)
Wing area: 48.5 m� (522 ft�)

Weights:
Empty weight: 7,601 kg (16,757 lb)
Loaded weight: 10,538 kg (23,232 lb)
Max takeoff weight: 11,768 kg (25,944 lb)


---

Performance:
Maximum speed: 521 km/h (281 kt, 325 mph)
Range: 2,020 km (1,090 nm, 1,260 mi)
Service ceiling: 9,000 m (30,000 ft)
Rate of climb: 8.2 m/s (1,610 ft/min)
Wing loading: 217 kg/m� (45 lb/ft�)
Power/mass: 260 W/kg (0.16 hp/lb)


---

Armament:
Two 20 mm (0.79 in) ShVAK cannons
Three 7.62 mm (0.30 in) ShKAS machine guns

Bomb Load:
Internal: 1500 kg (3312 lbs)
External: 2270 kg (5004 lbs)

---
Design and development
-
Source: Wikipedia
The Tu-2 was tailored to meet a requirement for a high speed bomber or dive-bomber, with a large internal bombload, and speed similar to that of a single seat fighter. Designed to challenge the Ju 88, the Tu-2 proved comparable, and was produced in torpedo, interceptor, and reconnaissance versions.
Designed as "Samolyet (aircraft) 103", development took place under prison conditions. The first prototype was completed at factory N156, and made its first test flight 29 January 1941, piloted by Mikhail Nukhtinov.The AM-37 engine was abandoned to concentrate efforts on the AM-38F for Il-2. So Tupolev had to redesign aircraft for an available engine. Modifications of this bomber took ANT-58 through ANT-69 designation slots. A total of 2257 Tu-2s were built.
Operational service - Source: Wikipedia
Built from 1941 to 1948. The Tu-2 was the USSR's second important twin-engined bomber, the design brought Andrei Tupolev back into favour after a period of detention.
The Tu-2 remained in service until 1950. Some Chinese Tu-2s were encountered by British and American airman during the Korean War.
Variants - Source: Wikipedia
"Aircraft 103" - Two 1400 hp Mikulin AM-37 (water cooling). 1941.
ANT-67 - Five-seat long-range bomber.
Tu-1 - Three- seat long-range escort fighter.
Tu-2 - Two 1450hp Shvetsov ASh-82 (air cooling) with bigger drag. 1942.
Tu-2S (ANT-61) - Powered by two 1850hp Shvetsov ASh-82FN radial piston engines. 1943.
Tu-2D (ANT-62) - Longe-range version, powered by two 1850hp Shvetsov ASh-82FN?. 1943?
Tu-2DB (ANT-64) - Long-range bomber version.
Tu-2F (ANT-64) - Photo-reconnaissance version.
Tu-2G - High-speed cargo transport version.
Tu-2K - Only two aircraft were built for testing ejection seats.
Tu-2M (ANT-61M)
Tu-2N - Engine test-bed, built to test the Rolls-Royce Nene turbojet engine.
Tu-2 Paravan - Two aircraft built to test barrage balloon cable cutters and deflectors.
Tu-2R - Reconnaissance version.
Tu-2RshR - Prototype, armed with 57-mm cannon in the forward fuselage.
Tu-2/104 - All-weather interceptor prototype.
Tu-2T (ANT-62T) - Torpedo-bomber.
Tu-6 - Reconnaissance aircraft.
Tu-8 (ANT-69) - Long-range bomber.
Tu-10 (ANT-68) - General-purpose bomber prototype.
UTB - bomber trainer with Shvetsov ASh-21 engines of 690 hp created by the Sukhoi OKB in 1946.

---
WARBIRD RESOURCE GROUP
>
RUSSIAN AVIATION
>
BOMBERS/ATTACK
>
PREVIOUS PAGE
---